IIT Bhubaneswar Research Park to Host Open Challenge for Incubating Start‐ups in AR‐VR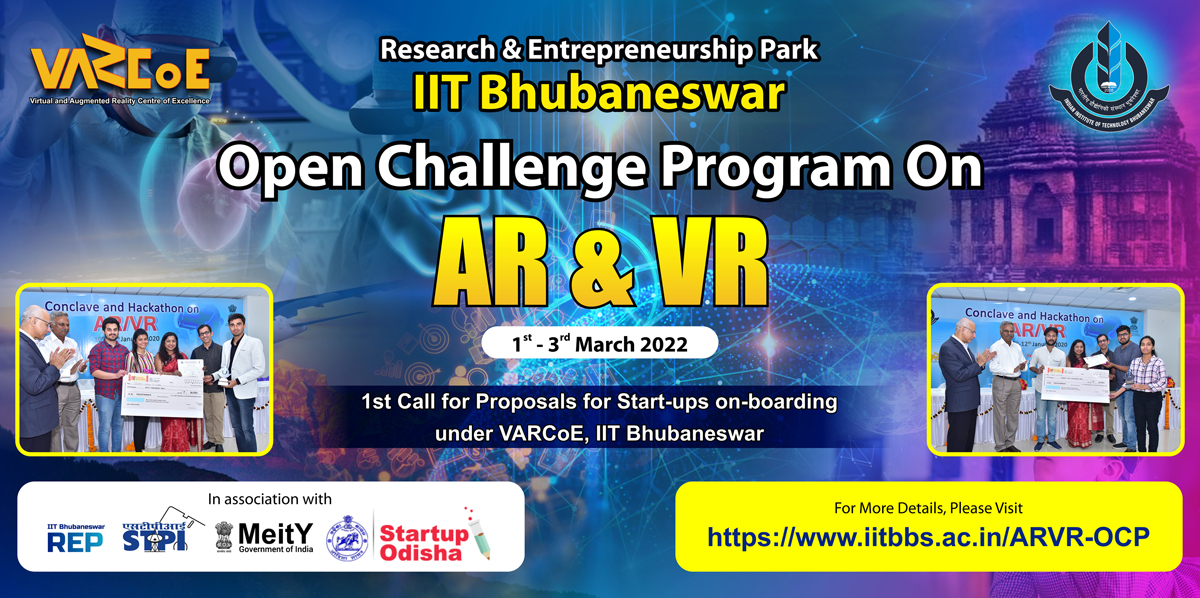 27th Dec, 2021, Bhubaneswar: The Research & Entrepreneurship Park of IIT Bhubaneswar (IITBBS-REP) is all set to host an Open challenge program (OCP) in AR-VR in association with Software Technology Parks of India (STPI), Ministry of Micro, Small and Medium Enterprises (MSME), Govt of Odisha, Start-up Odisha, Ministry of Electronics and Information Technology (MeitY), Govt of India as a part of its endeavour to help creating an entrepreneurial ecosystem in AR-VR in the country, especially in Odisha by on boarding start-ups both in physical and virtual mode. The objective of this year's Open Challenge Program (OCP) is to select upto 20 best submissions led and executed by start-ups, actively involved in research, development, and application activities related to AR-VR. The project proposals with potential to entail a substantial advance in the state of the art technologies by delivering new services with potential to improve the solutions based on AR-VR with an ability to reach the market in the short run, will be selected. The open call is divided into four participation tracks namely Augmented Reality platform for Medical Planning, Tourism, Cultural Heritage and Education and Skilling.
Speaking on this occasion, Prof R V Raja Kumar, Director said, "At the moment the area of AR-VR is experiencing a steep growth with the global market estimates expected to rise from the current 30 Bn to 300 Bn USD in the coming three years and continue to rise thereafter. It has a strong economical implication to our country too and we need to tap this opportunity also for realizing the Make in India dream proposed by Shri Narendra Modiji, hon'ble Prime Minister, in this area. The AR-VR center of Excellence (VARCoE) has been setup at the IITBBS-REP in 2019 with the objective to help creating an ecosystem in AR-VR in the country with growth focus in Odisha by giving impetus to R&D, technology incubation and entrepreneurship, human resource generation and innovative education. We also acknowledge the philanthropic support from Smt. Susmita Bagchi, Shri. Subroto Bagchi, with matching grants from Odisha Skill Development Authority and MSME, STPI provided for joining hands together with IIT Bhubaneswar in this endeavour".
The opening date for proposals to OCP would commence from 27th Dec, 2021 and end on 26th Jan, 2022. The screening of the proposals would start from 01st Feb, 2022 and the final selection will be announced on 01st March, 2022 after presentation by the shortlisted teams. The selected start-ups will have a hand on opportunity of on boarding in the VARCoE premises of IIT Bhubaneswar campus (In campus mode and virtual mode) with seed grants/investment support upto Rupees 10 Lacs. They will also have access to other funding/Investment from Govt. organizations upto the tune of Rupees 25 Lakhs with an access to private investment for creation of a suitable ecosystem for organizational visibility centred towards new partnerships, business opportunities followed by mentoring support from VARCoE Team members.
Dr P K Sahu, the professor-in-charge of the center said, "The Hackathon we organized in the past was a big success. The present announcement is made to reach every nook and corner of our country, we sure to ignite the innovation passion of start-ups, budding entrepreneurs, and innovators based out in India and thereby paving the path towards transforming India as a software product nation and we are sure of receiving best of proposals from across the nation in response to the call".